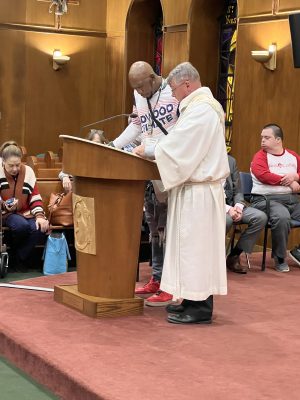 Our Lady of Confidence Retreat is a three-day retreat at Malvern Retreat House scheduled for October 10, 11 & 12, 2023 for adults with disabilities. The retreat is geared towards adults with intellectual, physical or emotional disabilities. The retreat will be directed by a team: Fr. Dennis Weber, Fr. Amal Sawarimuthu, Sd. C., Fr. Mike Speziale and Fr. Steve Surovic, S.J.. The theme is: Communion with God; Communion with Each Other. Liturgies, presentations and communal prayer will be conducted in a serene environment together with comfortable, accessible facilities. If you or someone you know would enjoy having their faith in God refreshed and strengthened, register online at: www.opdarchphilly.org. Call 215-587-3530 or email OPD@archphila.org for a brochure and registration form.
In 2023 the dates will be: October 10, 11 & 12, 2023
Volunteers will be available to assist and monitor physical needs and accommodations. At least one registered nurse will be on site throughout the retreat. For additional information, please call: 215-587-3530 or Email: opd@archphila.org. If you would like to be a volunteer companion on this retreat contact Jenny Mars at marsfam1@gmail.com.
If you would like to make a donation towards the Our Lady of Confidence retreat, click here. If paying via check, please make checks payable to Malvern Retreat House and include OLC Retreat in the memo. 
To complete the Registration/ Medical Form online – Click Here
For a Printable Registration/Medical Form – Click Here
To view or print the brochure – Click Here
Retreatant Letter    /   Volunteer Letter   /  Organization & Group Home Letter